Get the latest BPR news delivered free to your inbox daily. SIGN UP HERE
(Video Credit: The City Club of Cleveland)
Nina Jankowicz, President Joe Biden's new "disinformation czar," slammed parents' concerns over Critical Race Theory being taught in schools as "disinformation for profit" in October, while accusing the GOP of "weaponizing people's emotion."
Jankowicz lives in Loudoun County, Virginia, which is ground zero for the controversy concerning Critical Race Theory. Many parents assailed school board meetings there protesting what they perceived as a racist, leftist ideology that was being forced on their children. The concern over CRT spread across the country and parents began taking a stand against school boards over the issue.
Jankowicz made the comments during a speech given at the City Club of Cleveland in Ohio. The presentation was entitled, "Disinformation and Democracy: Civic Discourse in the Digital Age."
"Critical Race Theory has become one of those hot-button issues that the Republicans and other disinformers, who are engaged in disinformation for profit, frankly … have seized on," she emphatically stated during her speech. "But it's no different than any of the other hot-button issues that have allowed disinformation to flourish."
"It's, you know, it's weaponizing people's emotion," she contended.
She quotes Kimberle Crenshaw in her book, so I guess we shouldn't be surprised that Nina Jankowicz is propagating Marxist propaganda talking points about Critical Race Theory.

— Liz Wheeler (@Liz_Wheeler) May 5, 2022
The Department of Homeland Security hired Jankowicz on April 27 to combat so-called "disinformation" on a myriad of topics and to allegedly assist in policing online social media platforms. The reason for the position was ostensibly to address "misinformation" in minority communities before the upcoming elections.
Many conservatives view the position on the new board as akin to an Orwellian "Ministry of Truth." She has been excoriated for promoting the suppression of accurate news events such as the New York Post's reporting on Hunter Biden's laptop-from-hell. She has also pushed the Russian collusion hoax against former President Donald Trump.
Homeland Security Secretary Alejandro Mayorkas tapped Jankowicz for the dubious position. He was asked during testimony on Wednesday about her past efforts to suppress information. He claimed he was not aware of them.
"When the department picked her, did it know that she had said that Mr. Hunter Biden's laptop is Russian disinformation?" Sen. John Kennedy (R-La.) asked Mayorkas.
"I was not aware of that, but we do not discuss the internal hiring process. Ultimately, as the secretary I am responsible for the decisions of the Department of Homeland Security," he answered.
"When the department picked Ms. Jankowicz, did it know that she had vouched for the veracity of the Steele dossier?" Kennedy proceeded to ask him.
"Senator, let me repeat myself and add an additional fact," Mayorkas answered. "One, we do not discuss internal hiring processes. Two, I was not aware of that fact. Three, as the secretary of homeland security I am responsible for the decisions of the department, and it is my understanding that Ms. Jankowicz is a subject-matter expert in the field in which she will be working on behalf of the department."
(Video Credit: Senator John Kennedy)
Mayorkas has been called upon by a number of Republicans to dissolve the board.
Sen. Marsha Blackburn (R-Tenn.) sent a letter to him on Tuesday, according to Fox News, that demanded answers concerning how much authority the board has been given. She then argued that the board threatens Americans' First Amendment rights and that partisan control over it will chill conservative speech.
On Thursday, the Republican House Judiciary demanded detailed testimony from Jankowicz:
#BREAKING: Judiciary Republicans seek testimony from Nina Jankowicz on the newly established so-called "Disinformation Governance Board." pic.twitter.com/letSY3ya08

— House Judiciary GOP (@JudiciaryGOP) May 5, 2022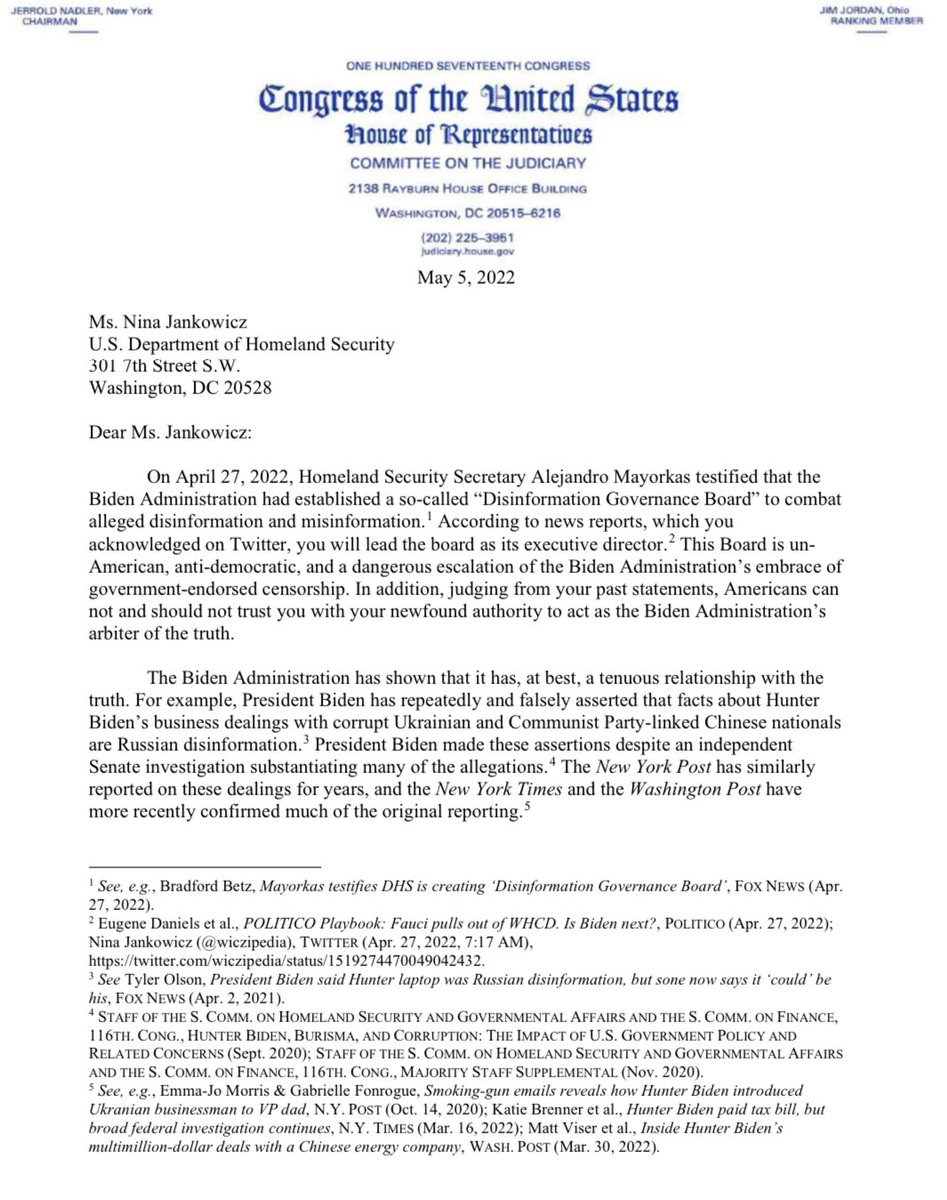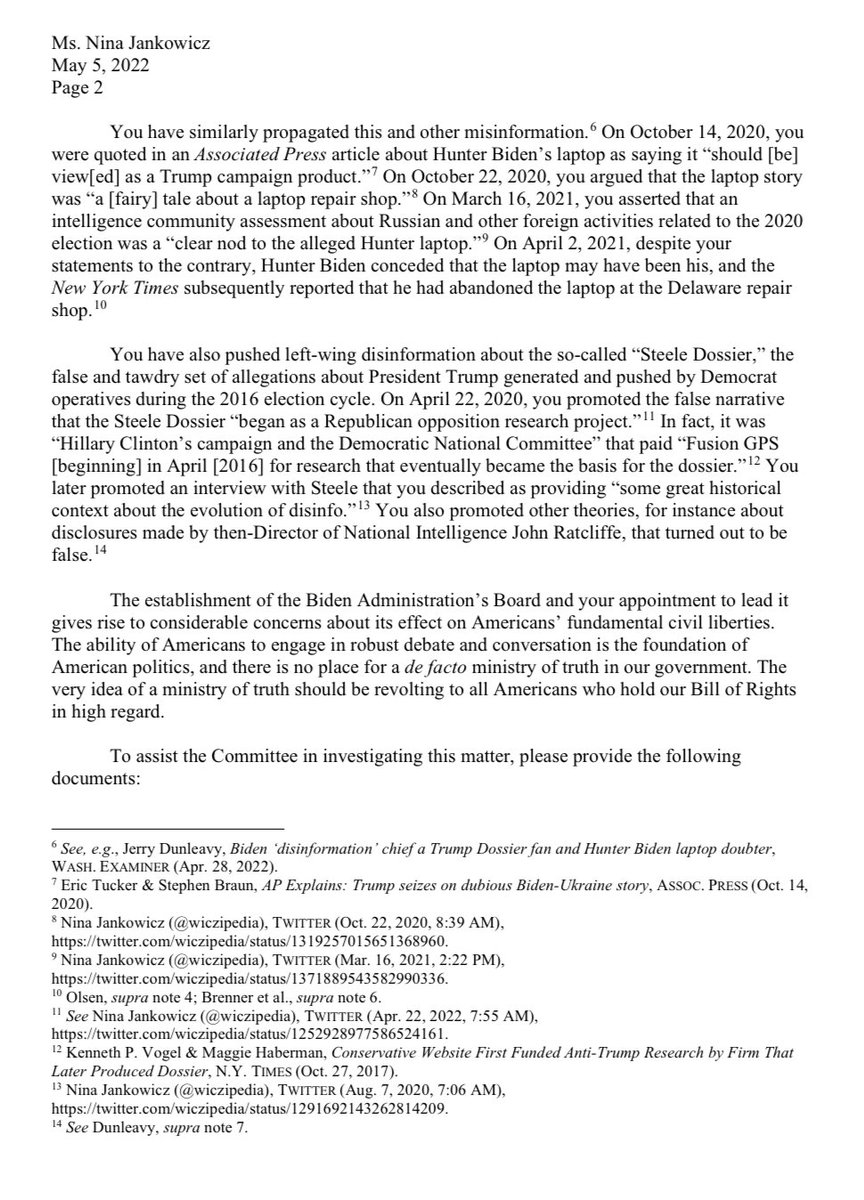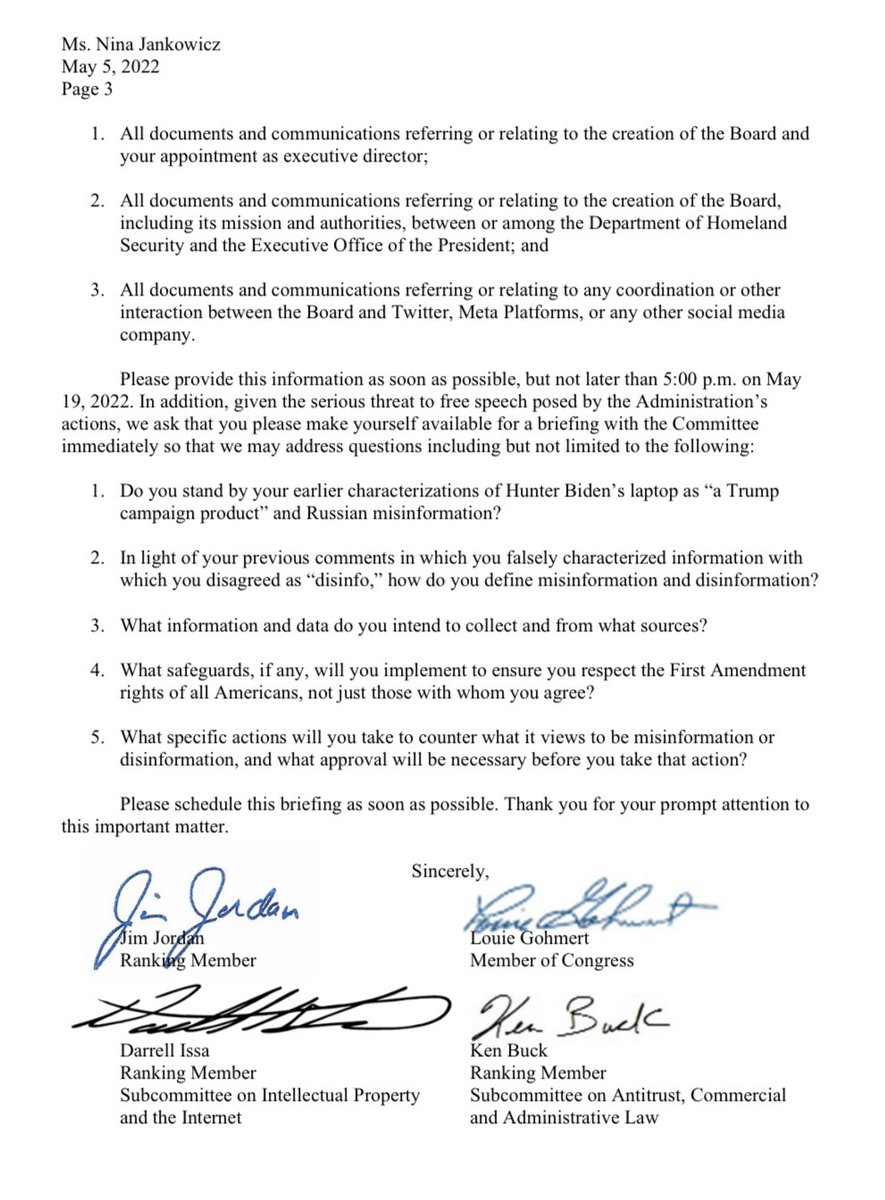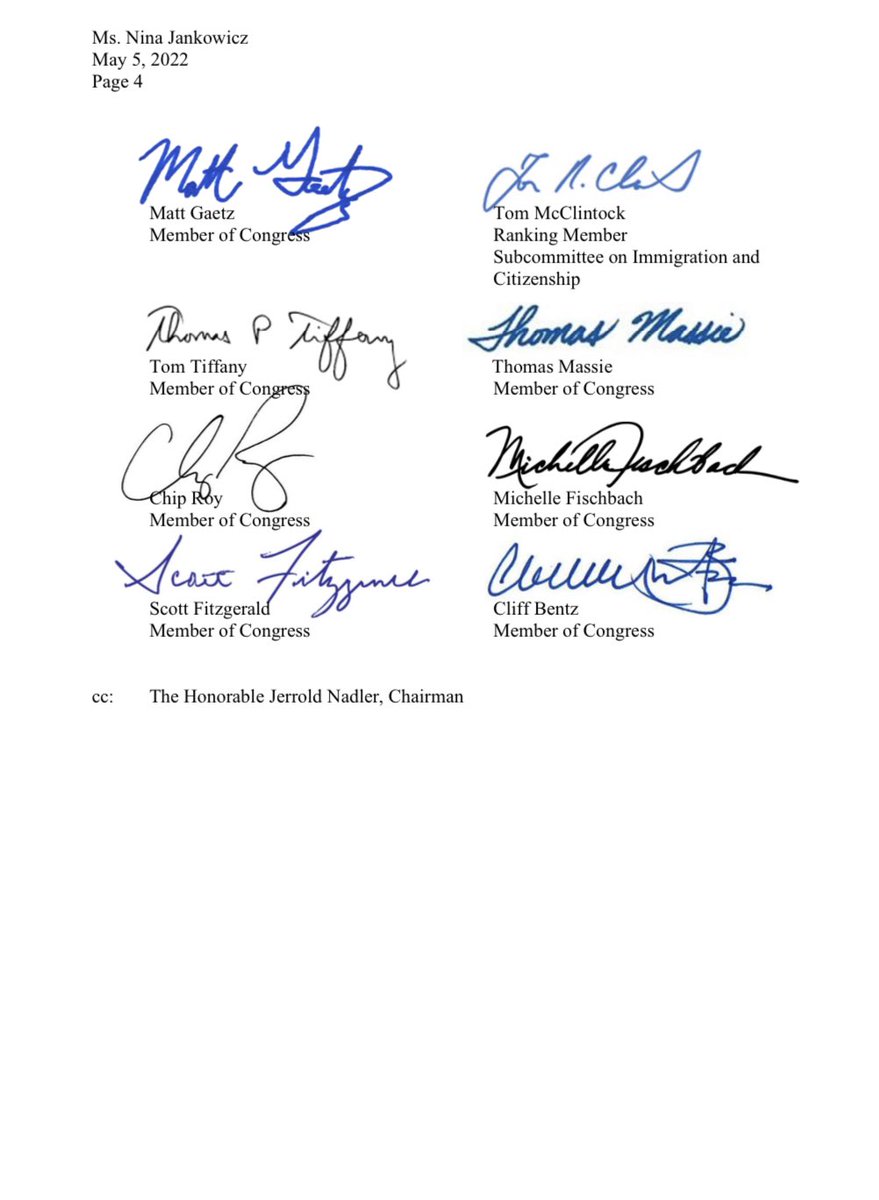 Christopher Rufo, who is a writer at City Journal, expressed sentiments on Twitter that many conservatives share, "The Ministress of Truth has determined that conservatives reporting on critical race theory are 'disinformers who are engaged in disinformation for profit.' We will never be silenced—and certainly not by this show-tune tyrant."
Jankowicz is a classic of the genre: the series of high-prestige positions producing nothing of value, the alternating posture of girlboss clichés and pseudo-victimhood, the amazing combination of elitism and idiocy that are required to believe the government can manage "truth."

— Christopher F. Rufo ⚔️ (@realchrisrufo) May 5, 2022
This is, to be honest, an incredible boon for conservatives. The "disinformation board" is a fake-jobs program that won't accomplish anything substantive, but it gives us the moral high ground and a big, beautiful, easy target to paint them (accurately) as information tyrants.

— Christopher F. Rufo ⚔️ (@realchrisrufo) May 5, 2022
DONATE TO BIZPAC REVIEW
Please help us! If you are fed up with letting radical big tech execs, phony fact-checkers, tyrannical liberals and a lying mainstream media have unprecedented power over your news please consider making a donation to BPR to help us fight them. Now is the time. Truth has never been more critical!
Success! Thank you for donating. Please share BPR content to help combat the lies.
Latest posts by Terresa Monroe-Hamilton
(see all)
Comment
We have no tolerance for comments containing violence, racism, profanity, vulgarity, doxing, or discourteous behavior. If a comment is spam, instead of replying to it please click the ∨ icon below and to the right of that comment. Thank you for partnering with us to maintain fruitful conversation.