Get the latest BPR news delivered free to your inbox daily. SIGN UP HERE
---
CHECK OUT WeThePeople.store for best SWAG!
For a party that so often accuses President Donald Trump of wanting to subvert democracy, Democrats seem unnaturally obsessed with wanting to subvert democracy. Kind of.
Case in point: House Democrats reportedly intend to introduce a bill next week that would limit the term of all future Supreme Court justices to just 18 years, far short of the lifetime tenure guaranteed to them by the U.S. Constitution.
This effort is being spearheaded by California Rep. Ro Khanna, who published a screed Friday complaining about the disproportionate number of conservative-leaning justices on the high court. Apparently, liberal Supreme Court justice lives matter.
"Over the last 44 years, Republicans have held the presidency for 24 years and appointed 15 justices. In contrast, Democrats have held the presidency for 20 years and appointed only 4 justices," the screed reads.
"Khanna's legislation will eliminate the arbitrary nature of Supreme Court vacancies by creating a regular, fair process that doesn't reshape the Court for decades at a time."
But it will do so not only in violation of the Constitution, but also in contravention of the long-maintained (though admittedly not set in concrete) thesis that SCOTUS term limits can only be imposed through a constitutional amendment.
"Article III of the Constitution gives Congress broad authority to regulate the federal judiciary, but it also provides that federal judges will serve during 'good behavior.' This phrase is widely read as requiring life tenure, and scholars remain divided over whether Congress can limit that tenure via legislation alone," SCOTUSblog notes.
In a video statement posted to Twitter on Friday, the California congressman claimed that the Founding Fathers had never intended for SCOTUS justices to stay on so long.
"Our Founders could never have dreamed that a justice would be making decisions on the court 40 years, 50 years after they were appointed. The idea that the framers had was that someone after a distinguished legal career would serve on the Supreme Court for their final few years of their professional career and render their wisdom and counsel to the nation. That has been totally perverted," he said.
To all the Republicans who talk about term limits: Yes, I'm all in! We need term limits for the House, the Senate, and absolutely the Supreme Court. pic.twitter.com/zRdb5k7ALY

— Rep. Ro Khanna (@RepRoKhanna) September 25, 2020
Fact-check: FALSE.
When former Arkansas Gov. Mike Huckabee posited a similar argument during former President Barack Hussein Obama's presidency in 2015, the National Constitution Center penned a detailed fact-check explaining why this theory is wrong.
The center wrote that people such as Huckabee (and now Khanna) have "a perception of what the founding generation wanted regarding judicial tenure that seems to run counter to Article III and to the history of the founding years."
"There is nothing in Article III, or in the impeachment provision, that supports the notion that 'the nation's founders never intended to create lifetime, irrevocable posts' for Supreme Court Justices, or for other federal judges."
Not surprisingly, when Huckabee made his remarks in 2015, the media rushed to dismiss them:
The Washington Post, 2015: "Mike Huckabee suggested term limits for the Supreme Court today. That's not such a good idea."
The Washington Post, 2020: "Judicial term limits are the best way to avoid all-out war over the Supreme Court"
What changed?
Oh, that's right, the president …
The way Khanna's proposal would work is that a president would be permitted to appoint a justice during his/her first and third year in office. The longest-serving member would then move "into senior status with limited duties."
News: @RoKhanna introduces a bill to impose 18-year term limits on Supreme Court justices.

Every president gets an appointee in Year 1 and Year 3.

When the size of the Court exceeds 9, longest-serving member moves into senior status with limited duties.https://t.co/QzkR9f225D

— Sahil Kapur (@sahilkapur) September 25, 2020
The response to the congressman's proposal has been divided.
On one hand, imposing term limits is far less radical than packing the court:
term limits on SCOTUS is a 1000x more reasonable idea than packing the court https://t.co/bLh8JQx5Rm

— Brad Polumbo 🇺🇸⚽️ 🏳️‍🌈 (@brad_polumbo) September 24, 2020
If every SCOTUS appointee had a set term and they were spaced out evenly then (most of the time) every president would get the same number of nominees. It's never made a ton of sense to me why we're fine with some presidents getting 5 and others getting 0 based on when ppl die.

— Brad Polumbo 🇺🇸⚽️ 🏳️‍🌈 (@brad_polumbo) September 24, 2020
I'm not sure I fully support the idea. Just don't think it's crazy in general — none of this is to endorse the Dem proposal as I don't know any of the details.

— Brad Polumbo 🇺🇸⚽️ 🏳️‍🌈 (@brad_polumbo) September 24, 2020
But on the other hand, why should Supreme Court justices be beholden to term limits when members of Congress aren't?
The Democrat politicians who are pushing for term limits on the Supreme Court,

Are the same Democrat politicians who have been in office for 35+ years…

— Students For Trump (@TrumpStudents) September 25, 2020
So Democrats in House are preparing a bill limiting U.S. Supreme Court justice terms to 18 years.

Oh heck no. We need term limits for congress. These corrupt bootlickers use congress to get rich.

They need to go.

— Kambree (@KamVTV) September 24, 2020
Term limits for Congress first https://t.co/AnHgAaFFCT

— Anna Khait (@Annakhait) September 24, 2020
Perhaps what America needs are term limits for EVERYBODY, starting with 33-year congressional veteran Nancy Pelosi.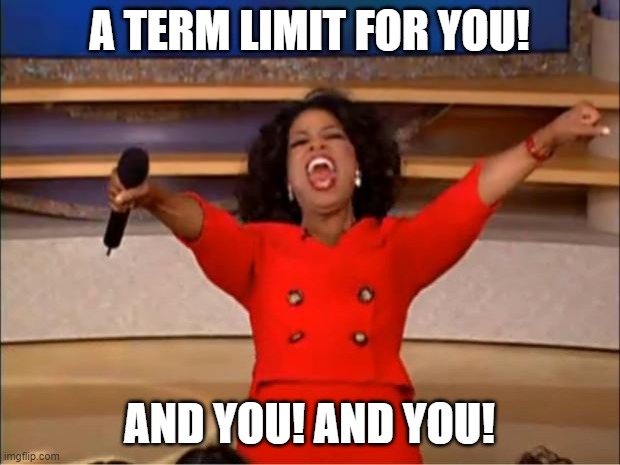 DONATE TO BIZPAC REVIEW
Please help us! If you are fed up with letting radical big tech execs, phony fact-checkers, tyrannical liberals and a lying mainstream media have unprecedented power over your news please consider making a donation to BPR to help us fight them. Now is the time. Truth has never been more critical!
Success! Thank you for donating. Please share BPR content to help combat the lies.
Latest posts by Vivek Saxena
(see all)
Comment
We have no tolerance for comments containing violence, racism, profanity, vulgarity, doxing, or discourteous behavior. If a comment is spam, instead of replying to it please click the ∨ icon below and to the right of that comment. Thank you for partnering with us to maintain fruitful conversation.