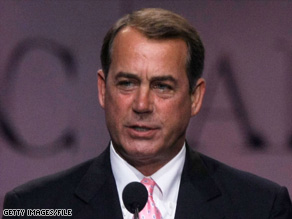 By NPR Staff
House Republican Leader John Boehner has said that his party will repeal the new health care law if the GOP gains a congressional majority in November.
"I think that we need to repeal the health care law and replace it with common-sense steps that will lower the cost of health insurance in America," Boehner (R-OH) tells NPR's Steve Inskeep.
Boehner and the Republicans are hoping for a repeat of 1994, when the GOP swept the midterm elections. He says the party is engaging with the public to develop the agenda it will enact if it secures a majority in November.
The party that controls the White House typically loses House seats during midterm elections, and Democrats are bracing for losses: 37 governorships, 36 Senate seats and the entire 435-member House are at stake.
Boehner says he's optimistic about his party's prospects, citing public anger over spending and debt. He says he believes "at least 100 seats" are in play.
"If [Republican Sen.] Scott Brown can win in Massachusetts, there isn't a seat in America the Republicans can't win," Boehner says. "What we're seeing every day is the playing field widen, widen beyond anything we've seen around here during my 20 years."
But Republicans face criticism that much of their time in the minority has been spent opposing Democratic proposals. Boehner rejects that charge, saying his party offered ideas on the stimulus bill, the budget and health care.
"If you look over the course of the last 16 months, every time we've had to oppose our Democrat colleagues, we've offered what we thought was a better solution," he says.
DONATE TO BIZPAC REVIEW
Please help us! If you are fed up with letting radical big tech execs, phony fact-checkers, tyrannical liberals and a lying mainstream media have unprecedented power over your news please consider making a donation to BPR to help us fight them. Now is the time. Truth has never been more critical!
Success! Thank you for donating. Please share BPR content to help combat the lies.
Latest posts by Tom Tillison
(see all)
Comment
We have no tolerance for comments containing violence, racism, profanity, vulgarity, doxing, or discourteous behavior. If a comment is spam, instead of replying to it please click the ∨ icon below and to the right of that comment. Thank you for partnering with us to maintain fruitful conversation.